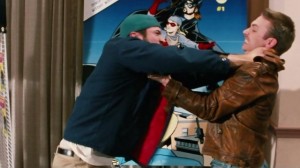 I add depth and shading to give the image more definition. Only then does the drawing truly take shape.
If you're not familiar with the quote in the title, it's from the Kevin Smith film, "Chasing Amy", in which a comic book inker, tired of his fellow comic-book penciller getting all the love, finally snaps when an obnoxious fan tells him he's only "a tracer."
As a co-author with Jeremy Robinson on his excellent Jack Sigler/Chess Team series, I might feel the same way, *except* that the fans have been overwhelmingly fantastic. Out of the very few negative comments and feedback we received for our collaboration on 2012's RAGNAROK, only one person pointed an accusing finger at me. And on the other side of that coin, the book became a bestseller on Amazon. Apparently loads of people loved the book. So ultimately, even though the co-author gets less of the accolades, I certainly don't feel like Banky in "Chasing Amy". I might be a tracer, but I take my work seriously.
Today, the sequel to RAGNAROK, the 5th book in the series, OMEGA, is out everywhere. I wanted to take a moment to talk about what it's like to be a co-author with Jeremy Robinson, why I was happy to do so, and how proud I am of our achievements.
The first thing to know is that I am very protective of Jeremy and his work. As his editor on some 20 book projects at this point, I'm very familiar with his style, and I've certainly influenced it in grammatical ways. I count Jeremy as a friend as well as a colleague, and I'm honored that he often asks for and trusts my judgment on things ranging from story ideas to cover art and formatting. My ultimate goal, whether just offering feedback, performing edits, or co-writing with him, is always to make him look as good as possible. (He rarely needs that help from me, but the thought is ever-present in my mind.)
When Jeremy first asked me to co-author one of the Chesspocalypse novellas (CALLSIGN: DEEP BLUE), I was honored and thrilled. At the time, I was editing the rest of the series, and I was possibly more familiar with Chess Team continuity than he was, as it had been a while since he had written THRESHOLD but I had read all the books recently. My goal for Deep Blue was for us to come up with a killer action piece that was as nutso as it could get. I think we came pretty close. Fans enjoyed the novella, and when Jeremy asked me to work with him on RAGNAROK, a full-length Chess Team adventure, I was stunned and a lot nervous. I wanted to make sure I brought my ideas to the table, but most of all, I wanted for the story to *feel* like a Jeremy Robinson story—both in the things I wrote, and later in the process of editing, as well. And I was ruthless with that. If something didn't sound like a Jeremy thing (regardless of which of us had written it, I was in favor of changing it).
Our process for that book, and also for OMEGA, went like this. I went to his place in New Hampshire for a day and we talked about plot, and I made copious notes. I then went back home to Vermont and worked on a first draft, realizing as I did, that even though we both thought we had the full story in our brainstorming session, we had between 1/3rd and 2/3rds of the book instead. So I came up with other things and asked him in e-mails about things until we had the rest. That first draft was like the metal skeleton of an artificial Christmas tree. I passed the book to Jeremy and he would then go through it, adding pine needles, trimming off unnecessary branches, and shaping the thing into the finished product. He also ask me for new chapters, or ask me to cut things. We would both add a few ornaments along the way, and in editing, the book would ultimately get its string of lights and an angel on top. By the end, we could each probably remember most of what one of us wrote or the other wrote—for a few weeks. Then it would all blur, as to who wrote what.
It was a fun process, and the finished product was pretty great. But the key time to the process, really, was in editing, when I would change lines of mine that didn't sound enough like Jeremy, and he would alter things that sounded out of character for a given character. In the end, I felt confident with RAGNAROK, as I feel with OMEGA, that we had the best possible Chess Team book we could make. I'm sure with Jeremy's other co-authors, that the feeling is similar. Those excellent guys (Sean Ellis, David Wood, Edward G. Talbot, David McAfee, and Ethan Cross) all had their visions for what they wanted to do with their collaborations, but they all also wanted to keep Jeremy's world his. And with all of those projects, right down to the recent prequel novel PRIME (by Jeremy and Sean), Jeremy would have such a significant input into the book that it became impossible to say at the end who did what. He quality-controlled for adherence to his style and his vision for the series. And then…I came in at the end with edits, making sure the style was as similar to Jeremy's solo books as possible and making sure that Chess Team continuity was intact. As always, I was protective of Jeremy and the Team. And I hope that love shows through.
OMEGA, out today, is a hell of a ride. I've included a little graph I did, which shows the reading order for the series. If you're thinking of giving the series a shot and want to know where to start to read them all in order, this graph is for you. You could just start with OMEGA, too. But if you do, I guarantee you'll want to go back and read the rest of the series.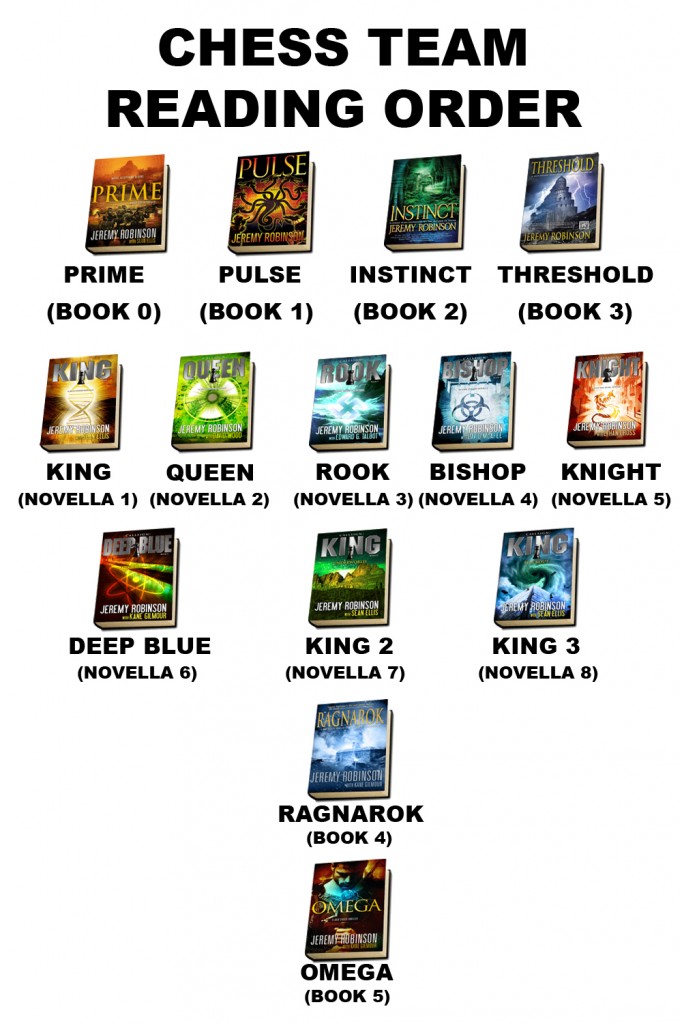 Will OMEGA be the end of the series? Officially the answer is 'you'll have to read it to find out.' Does King really die? Again, read it and see. I promise you won't regret it.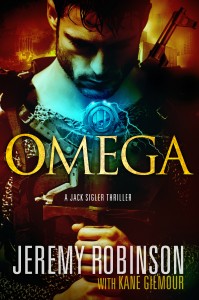 OMEGA by Jeremy Robinson and Kane Gilmour
Jack Sigler, Callsign: King, field leader for a black ops organization known as Endgame, is accustomed to feeling capable of handling most any situation. It is a confidence forged in the fires of battle against both monsters and madmen. But the introduction of Asya, a sister he never knew existed, and the kidnapping of his parents has him reeling. Using Endgame's resources, King and his "Chess Team" (Queen, Rook, Bishop and Knight) scour the planet for his parents, tracking a man known to the world as Alexander Diotrephes, but known to King by another name. The legendary Hercules is alive, well and plotting something beyond imagining—something that will affect two thousand years of history.
While the team is spread thin, an intruder walks past their secret headquarters' defenses, sits himself down in the director's chair and waits. When he's discovered by Endgame's coordinator, Tom Duncan, Callsign: Deep Blue, he's easy to identify—Richard Ridley, the team's oldest and most dangerous enemy, who is supposed to be dead.
But he isn't Ridley. He is a clone in search of his master, the real Ridley, who yet lives and is being held captive by the same man holding King's parents. Believing Ridley is the only one capable of stopping Alexander's plans, a temporary and tenuous alliance is formed, and Alexander's location is soon uncovered. The team, along with three clones, heads for a citadel buried beneath the ruins of ancient Carthage. Already in the area, King and Asya arrive first to find their parents and a staggering family secret that leads to the end of King's life as he knows it. The rest of the team arrives to find Richard Ridley free to act, an army of high-tech mercenaries bearing down on their location and evidence of their leader's demise.

King is dead. Long live King.
Links:
Amazon: http://amzn.to/18TcVub
Barnes & Noble: http://bit.ly/16FqGXu
Smashwords: http://bit.ly/16XkCNt