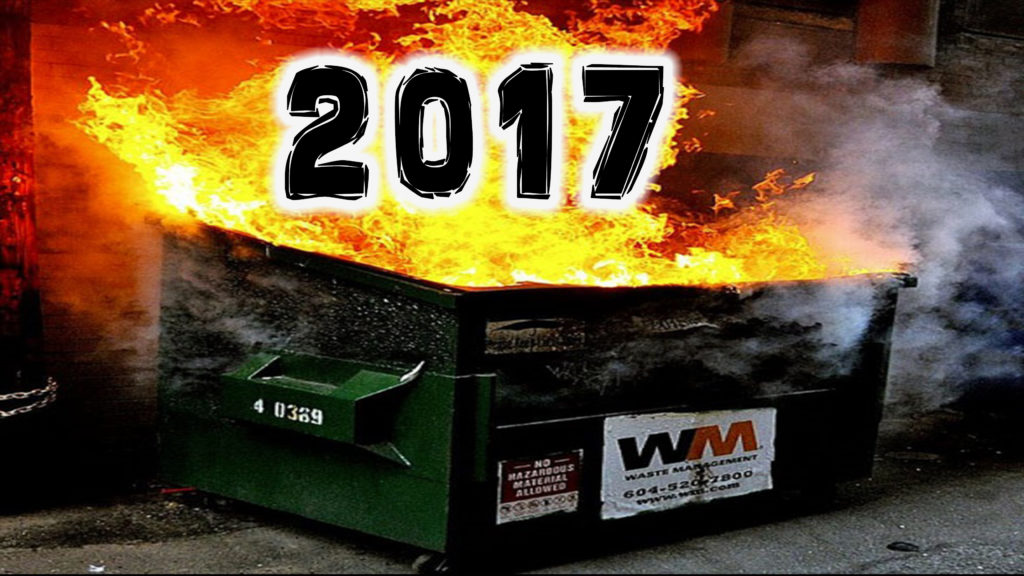 I had hoped to be better at communicating with readers through my blog and newsletter in 2017, but, well, it was a difficult year, as you'll see. So instead of the last ten or so blog posts and newsletters that I never actually wrote, here's one, which sums up 2017 for me and gives you a small hint of what's coming in 2018.
So what happened for me in 2017? A lot. But more of it personal than professional. Keep in mind that all of the following happened against the backdrop of a legal divorce (with bitterly contested child-custody wrangling) lasting far longer than it should have. Almost two years, for a relationship that had died in 2012. I had already moved on to a new home and a new relationship (with the love of my life and my true soul mate, Michelle), but the legal hassles persisted though 2017. And no, infidelity was not the issue here. Just happened that I met my significant other during the marital dissolution shenanigans that haunted me over the last three years.
January of 2017 was the first of three bouts of head lice for my kids, courtesy of the local public schools. Also, Michelle suffered from walking pneumonia, and I needed to help take care of her while dealing with the kids and the divorce-from-my-ex stuff. My first writing of the year was published in the form of the comic book Island 731, Issue #3 (co-written with Jeremy Robinson and based on his novel of the same name). But…the bad news was that the publisher decided to abandon the series half way through. They claimed low sales. I claimed they did 'jack' and 'shit' to promote the series and screwed it up at every turn. So it was fun while it lasted being a comic book writer. I never got paid. So I went back to novels and short stories.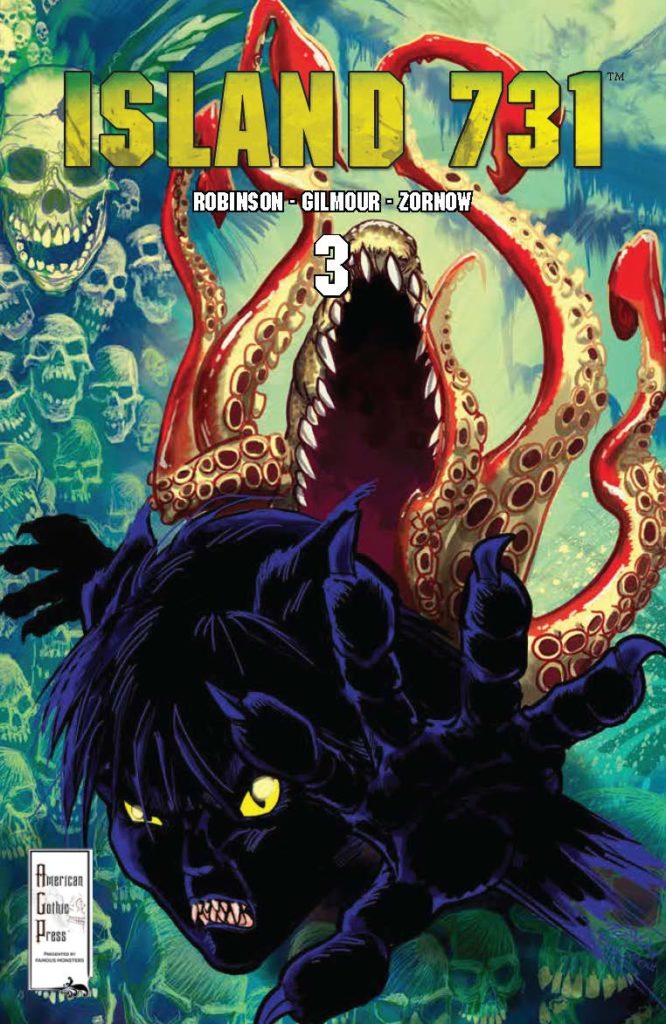 February brought unexpected fun in the form of a quick trip to LA with Jeremy Robinson, where we first teased readers about our whereabouts, posting random photos from Universal Studios and the LA Zoo that made it look like we were in other countries. The real reason for our trip? Meeting up with Director Chad Stahelski (John Wick series) to talk about possible creative endeavors, and an invite to the world premiere of John Wick: Chapter 2. The film was excellent and the afterparty was fun. (Yes, we saw famous people.) Overall a great trip.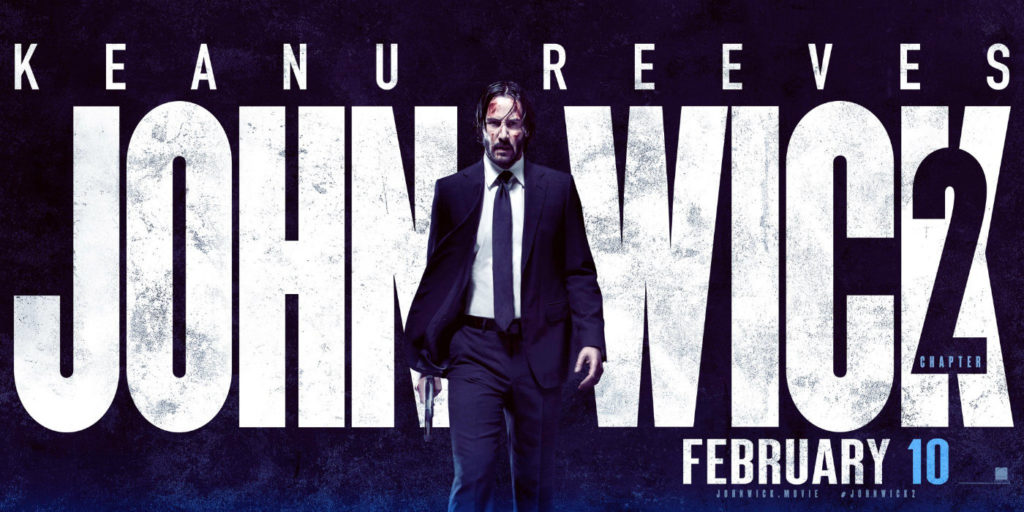 But it happened suddenly and with not much time to plan. I returned to Vermont just in time to take Michelle in for major surgery that led to weeks of recovery time and her losing her job because her employer wasn't willing to wait for her to recover from a full hysterectomy. Classy.
In March and April, while all this was going on, my mom was having detached retina surgery in Florida, and there were court dates, lawyers, and car troubles. I had back problems, the kids had doctor's appointments, and the lice resurfaced.
May brought a fun diversion, holding a three-way Skype conference with Dan Delgado and his New York high school classroom, while they asked me and Jeremy Robinson questions about our writing. Michelle and I attempted to join Jeremy in New Hampshire for Free Comic Book Day, but her car broke down, and we had to deal with that instead. Mine required thousands of dollars in repairs, which I was unwilling to pay (especially if my ex was going to get the car in the divorce, which she did), and so it was, in effect, dead. (*And still is, he noted with a smile.*)
A last-minute plan was hatched with my mom, where I would fly down to Florida, and help her buy a second car, and she would then give me hers. We would drive it up from Florida. Epic road journey commenced. Then she stayed a few days here in Vermont before returning down south.
Summer brought more illness, tons of rain, more car problems, and the unexpected and unplanned packing for moving house. Really quick. From the time we knew we were moving, we had two weeks to pack. A perfect opportunity to be in the middle of the town where all four kids (Michelle's two, and my two) go to school was something we couldn't pass up. Because we were half-an-hour away and commuting back and forth like maniacs. So even though we were exhausted already, we packed.
And then she broke her toe, and my architect friend Miccal, who was helping us move, also broke his toe, and we moved, broken toes and all. I had not seen the house yet, and it was dysfunctional in every way imaginable. The only thing I like about it (four months later, now) is its proximity to the schools. I was also frantically preparing for ROBINSONFEST 2017, an event where we managed to get thriller bestsellers Jeremy Robinson, Chris Kuzneski, Graham Brown, and yours truly, along with editor and up-and-coming adventure author Ian Harper, up to New Hampshire for a weekend of fun and mayhem with a group of twenty readers and fans.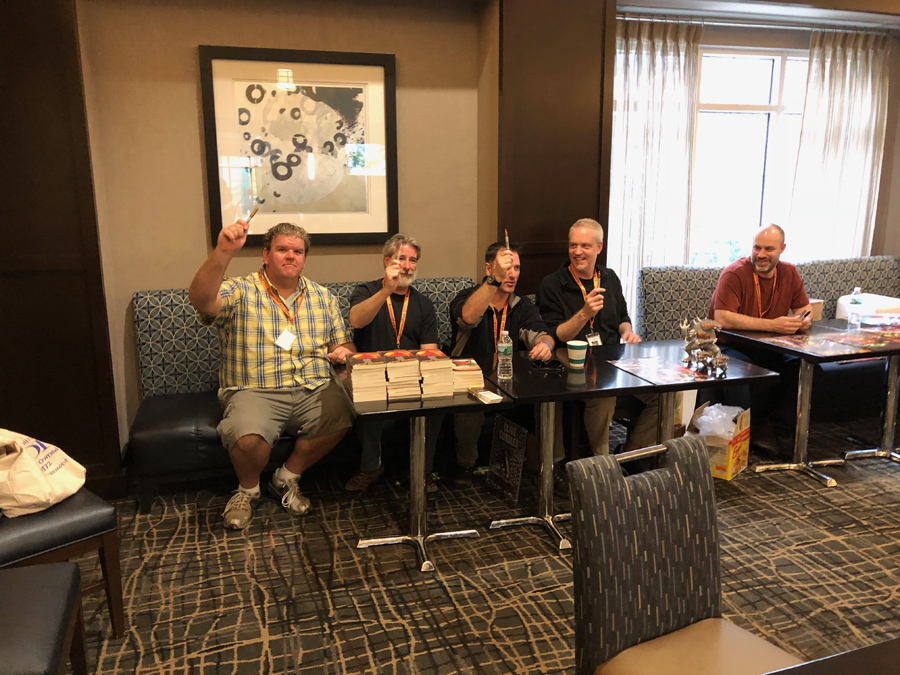 L to R: Ian Harper, Kane Gilmour, Graham Brown, Chris Kuzneski,
 and Jeremy Robinson
Kent Holloway was supposed to join us, but couldn't at the last minute, and we almost lost Chris as well, because a series of hurricanes slammed Florida. We did lose some of the participants that were going to join us because of the weather and its effects down there, and my mom came unexpectedly up from FL to seek shelter from the storms—right before I had to take off for the Fest. On the plus side, an anthology was finally released with my short story in it, which should have been out in 2015: MECH: Age of Steel.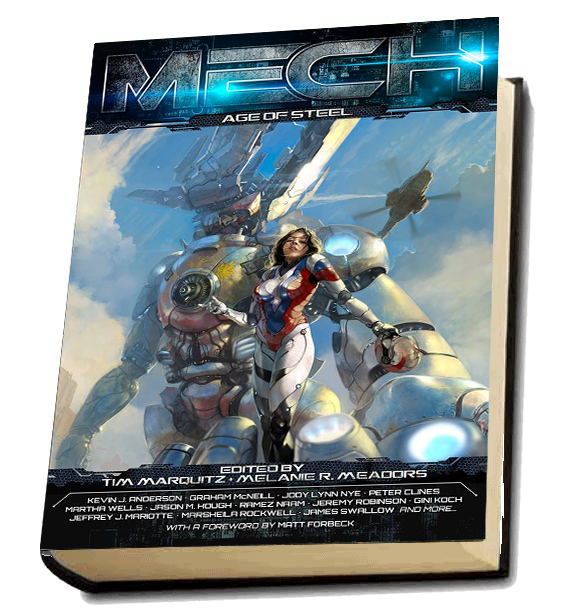 During my mother's visit in September, we had to deal with insurance stuff from the car she had given me having its front end ripped apart on the highway when I was driving it and a tire blew. And then I got sick and almost wasn't going to be well enough in time for Robinsonfest at all. And then Michelle was sick and did miss Robinsonfest because of it. During the event (which was fantastic, although we all missed Michelle), another of my short stories, "Thick Ice," was published in a horror anthology, Fearful Fathoms V2, from the excellent Scarlet Galleons Publications.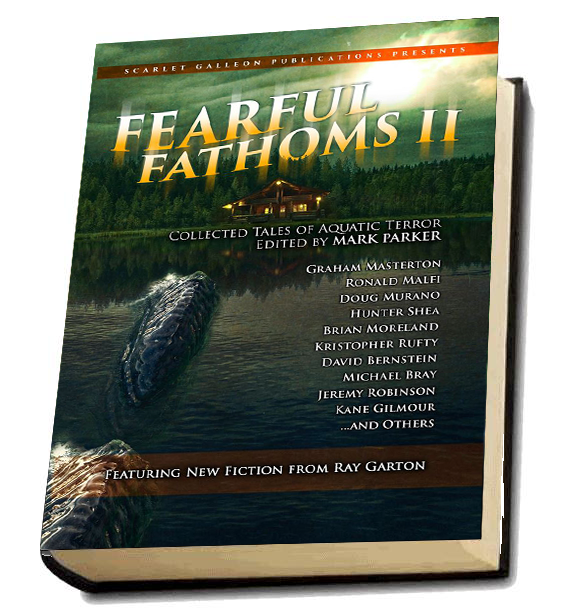 Meanwhile, all our stuff was still in boxes here in the new, ramshackle, falling down, not-a-right-angle-in-the-building house, a month after we'd moved in (three months later, some things are still not unpacked).
So what else could possibly happen? I had Jury Duty upon returning from NH from the Fest. Of course, I did. There were the bodywork repairs on the car to deal with, Halloween and a child birthday, and finally a good bit of news: Viking Tomorrow, my post-apocalyptic adventure novel with Jeremy was published, and the reviews were great. Viking marked the 4th and final bit of my writing that would see the light of day in 2017.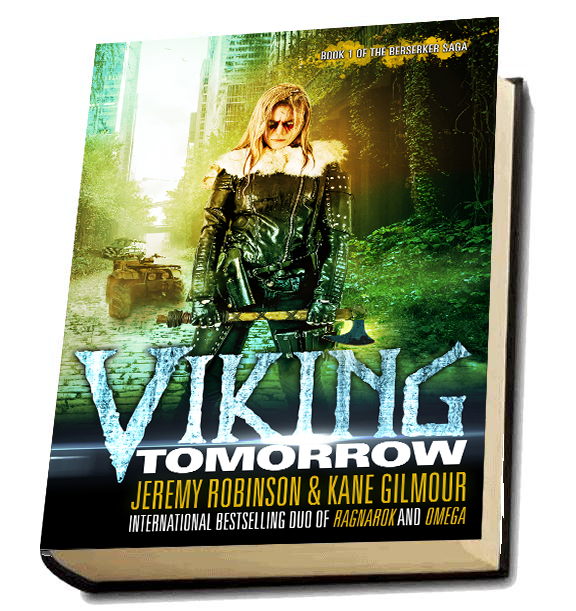 November was insulation being put into the house's walls, attic, and basement (yep, it previously had none!), a boy with allergic reaction to the insulation fumes, more court dates, legal wrangles, jury duty and jury selection, and lo and behold: the end of my divorce. There was much rejoicing. But there was also the DMV, a throat problem for me, freelance work, Thanksgiving, my son's birthday, me throwing out my back and nearly being bedridden by it, me breaking my toe, and my mom deciding she probably wanted to come up for Christmas—even though she hadn't thought of getting airline tickets, which she probably should have done eight months earlier.
December was a mad rush toward Christmas with the last of the jury duty bits, Christmas tree shenanigans, kids sick again, more freelance e-book formatting that went off the rails and right into my Christmas vacation this past week, the new Star Wars film (excellent fun), juggling kids back and forth between exes, actual Christmas Day with no kids (because they were all at their respective other parents' homes), followed by successive waves of kids arriving and opening presents, Michelle and I sick again, and a cold wave with sub-zero temperatures and cars not starting.
I'm exhausted just typing that.
You must be, just from reading it.
But all is not lost. I squeezed out some great writing in 2017. Despite all that crap, I'm happy and in love. Deliriously so. My kids are happy and well adjusted—better off with the divorce than before it, which is not always the case with kids and divorces. Money is okay, if not great. The house will work, even though I don't like it. I can get my kids to and from schools on foot, when needed.
And most importantly, 2017 is over. I spent time this week re-orienting my thinking, rejuvenating my spirit, and planning some things out. So now a little preview of the next year.
2018 is looking like 'all writing, all the time.'
In January I'll be working on something with a codename of Project Poltergeist. Why the codename? Because it's a ghostwriting job. I won't ever be able to tell you what it is because of a contractual Non-Disclosure Agreement. But it'll be fun, and it'll pay some bills.
Assuming Poltergeist is done by then, in February I'll return to an old favorite. The long awaited sequel to Resurrect, which I'm now calling Ice Sheet (instead of Frozen, for obvious reasons). This book was started ages ago—it just hasn't been finished. With luck, I'll finish it in Feb, and it'll be out before the summer. And if I stay on target, you'll get another Jason Quinn book in 2018 as well! Plus in Feb, another anthology I should be in (with a story I'm scheduled to type up tomorrow, actually) will be launching a Kickstarter. More about that one as I'm allowed to tell it.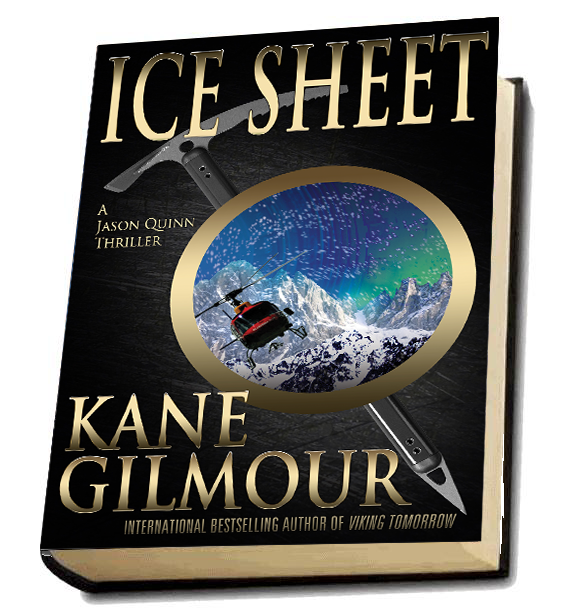 In March I'll turn my hand toward Project Fletch. Also not the real name of the novel, Project Fletch will be a straight-up mystery novel in the vein of Robert B. Parker's Spenser books or Gregory McDonald's Fletch series (hence the codename). This one I'll write under a completely new pseudonym, starting from scratch as a 'new' author, and pitching it to a 'Big New York Publisher'. Around 15% of this story is already written.
April should be fun. In April, I might…just might…be traveling to New York to witness part of a movie being made. More about that if it happens. Sadly, not a movie of one of my books. Just a movie. While in New York, I'll hopefully meet up with a literary agent and one of those aforementioned Big New York Publishers. I'll be armed with the Fletch manuscript, as well as a screenplay, codenamed Project Velocity. If I get to talk to the movie's director or producer, no way I won't be armed with a cool screenplay of my own. Just in case.
By May all my plans will have been completely derailed by life (See: 2017). However, in the odd event that it isn't, I'll spend my birthday month working on Project Phantom. Some of you already know that I have a horror-writing pseudonym. I'll be putting out more short stories for that author name, and in May I'll finally write the first novel for that author name—a story I've been wanting to tell for some time now. Project Phantom will also go first to a Big Publisher, but if they all pass on it, I'll be self-pubbing it.
And the latter half of 2018? Project Checkmate will see me assisting Jeremy Robinson in the research-end of him finishing up the Chess Team series with a big finale. Project Hammer will be two short novellas in the series of nostalgic horror tales I started with The Crypt of Dracula and never followed up with anything. The first Project Hammer book will be The Monster of Frankenstein, and will hopefully be released for Halloween 2018. The other is secret for now.
There will also be ROBINSONFEST 2018 (Aug 16-19) [mark it on your calendars now]. We should be able to grab some great guest stars for that weekend, just like last time. Hopefully Kent will be able to make it again this year. Speaking of Kent, mixed in earlier in the year, I'll be getting back to work with him on Interstate 0, which got derailed last summer—mostly because of my life. Kent, to give credit where it all belongs, has been extremely patient with me on that project. Finally, if I somehow miraculously stay on target all year, then by next Christmas, you might have a third Jason Quinn story—either the next full novel after Ice Sheet, or a novella dealing with a throwaway line from Resurrect, where Curtis Johnson mentions a mysterious incident that previously occurred in the Pyrenees Mountains.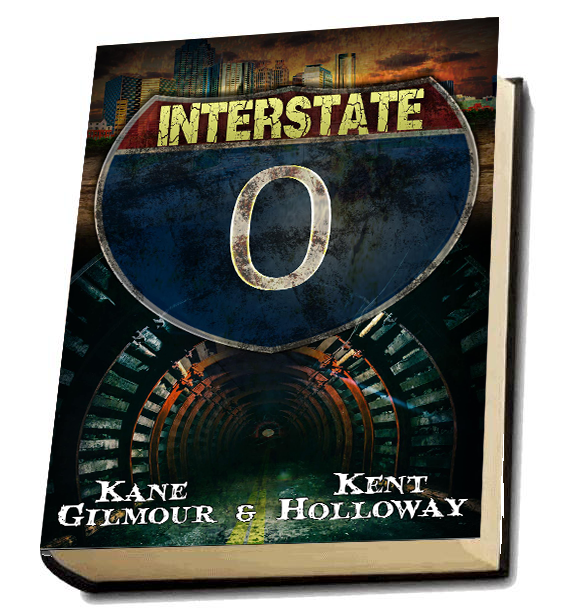 I should also mention that if you're a huge Jason Quinn fan and you're chomping at the bit for more Quinn, international bestselling authors David Wood and Sean Ellis put out a great novella this year called Arcanum. The story feature's Sean's Nick Kismet character meeting up with Dave's Dane and Bones characters. And a certain alpine engineer by the name of Quinn makes a cameo appearance—entirely Sean's idea, and I gleefully gave him my blessing.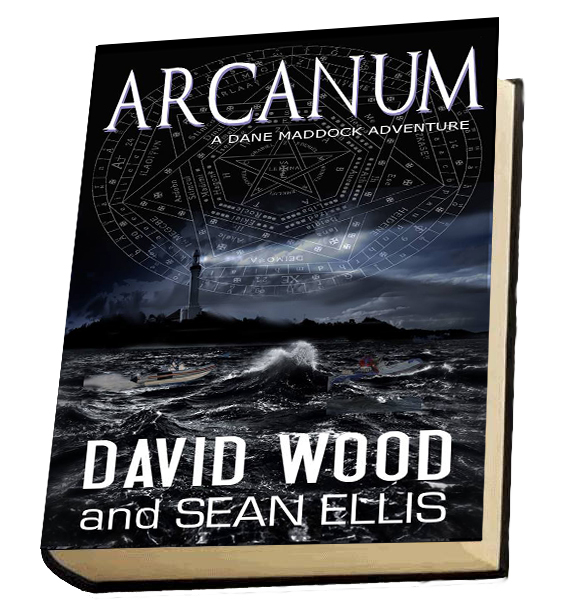 So that's it. A horrible shitty year, but the coming year is poised for greatness. It's negative three degrees outside, but I'm warm and happy, and about to go on a date with my sweetie. To Walmart, of all bloody places. But we're so in love with each other that it'll be fun, and we'll laugh and have a good time. 2017 is nearly dead, thank God. Here's hoping your 2018 is glorious, filled with love, happiness, and great things to read. I'll do my part to get you some of those great things. Be good to each other and stay warm.
Kane Gilmour
(From his Arctic Fortress,
Central Vermont)