Holy Hannah! Four months have gone by since I last posted here on the blog. In my defense, a lot has happened. First, my daughter, Moira Dawn Gilmour, was born on January 11th, and against my will, I delivered her. Well, I was pretty happy about it, but I had delivered my son in 2004, and I was supposed to be taking care of him while our awesome midwife handled things upstairs, but things went far too quickly and she didn't make it to the house on time. Oh well. Didn't drop this one either so I'm two for two. Mother and daughter are both doing fine.
RESURRECT is Out!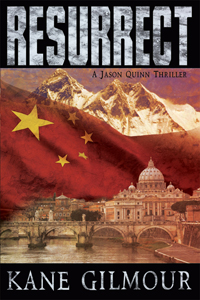 RESURRECT has been doing well with e-book sales, and I've even had some print sales too. The book has received some great blurbs from fellow authors and some great reviews—about half of them from people I don't know, so that's alright. E. Bard did a great review of the book on the ThrillReads and Reviews blog and it also appeared on the Thrillers Rock Twitter blog. The amazing Kent Holloway, publisher and author of THE DJINN, also performed a lengthy interview with me on his blog. Thanks Kent!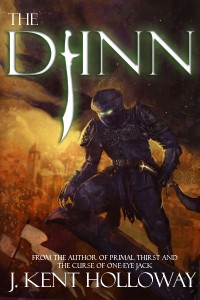 Hardcover
I've had some requests for a hardcover edition of RESURRECT, and naturally, I'd like my own copy as well. I'm going to try to put one together, and I'll announce it here when it's ready. It will likely have a few sample chapters from the next full-length Jason Quinn novel and an interview with yours truly. It might have a Jason Quinn short story too (depends if I can come up with a reasonable idea and if I can fit it into my suddenly busy writing schedule—more on that later). Reader Shannon Marshall suggested I include maps and diagrams—something I had always imagined for the book if I had it published by a New York publisher in hardcover. As it turns out, I probably wouldn't have been able to get that done if I had gone through a traditional publisher anyway. I hope to implement Shannon's suggestion too. If the experience goes well, I'll be doing all my books in hardcover first.
CALLSIGN: DEEP BLUE is Out!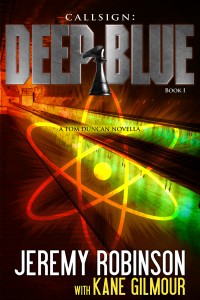 The novella I did with Jeremy Robinson for his Jack Sigler / Chess Team series, CALLSIGN: DEEP BLUE, is out and has been doing well. I've gotten some nice feedback on it, and I'm pleased to say that many of Jeremy's readers picked up the book, and then picked up RESURRECT too. As it turned out, Deep Blue was the 7th Chesspocalypse novella, being released after CALLSIGN: KING – BOOK 2 – UNDERWORLD, co-authored with Sean Ellis.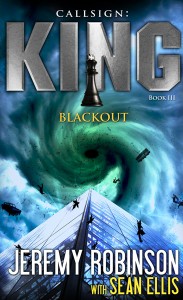 Edited by yours truly, UNDERWORLD was a great ride and if you haven't sampled it yet, you should snag it. Which brings me to the next point.
CALLSIGN: KING – BOOK 3 – BLACKOUT is out!
The third KING book, CALLSIGN: KING – BOOK 3 – BLACKOUT again co-authored by Jeremy Robinson and Sean Ellis, passed my editing desk and is now out. The story is pretty great. I think taken together, all three KING books form a pretty fantastic tale. So be sure to pick it up for more blazing King action and adventure.
.
.
Warbirds of Mars Update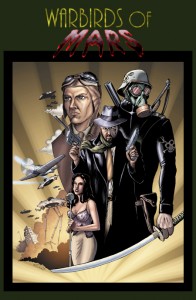 Along with the writing and editing I've been doing, I'm also writing the Warbirds of Mars web-comic, which was created by and is drawn by, my good pal Scott P. 'Doc' Vaughn. We've been getting some nice response regarding the series, about a Martian invasion of Earth in the latter years of WWII. Stop by and check out the story (and also the excellent 'radio' episode podcast that Doc did with some pals). Print versions of the web-comic can be nabbed at IndyPlanet and we've also got some pretty sweet Warbirds t-shirts at our swag link. Doc and I are also planning a prose anthology of Warbirds of Mars short stories. Right now, we've got some great folks that have agreed to write tales for us, but I won't name any names until we see the stories. Suffice it to say, you'll know many of the names. Doc is working on a Hunter Noir origin novella for the project, and I'll be doing a story with Mr. Mask set in pre-war Japan. More info on this one later in the year.
.
.
NEW PULP EXPLOSION!
I was surprised and honored a month or so ago when an editor and writer at one of the companies putting out New Pulp content, contacted me to compliment my work on Warbirds and invite me to submit some prose stories. I have to admit that I really hadn't known that for the last several years, there's been a revival in the great old Pulp era stories, with many companies like Altus Press reprinting them, and other companies like Airship 27 producing all new stories featuring many of the characters from the Pulp days that have now fallen into public domain. But man, am I glad my attention was called to this New Pulp (as it's being called) explosion. I very quickly found some great reprint books (Ki-Gor, the Purple Scar, and the Green Lama) and I've been snatching up the New Pulp stories also. I never read any of the reprints of Doc Savage or The Shadow growing up, but I knew friends that were into those characters. I had a working knowledge of the Pulp era and its connection to an era I know more intimately—that of comic books—but I had never really read any of the old stuff. I'm thrilled that this new landscape of publishing (with public domain and print on demand) has made it possible for those with a love of that era to reinvigorate it. If I can work it into my schedule, I hope to join in, and take that editor up on his offer. In the meanwhile, I'll be reading up on all I can from the old and the new.
RAGNAROK!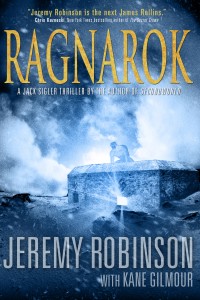 So what's up with my writing schedule being so crowded? It's because I got an offer from the fabulous Jeremy Robinson to co-author the next full-length novel in his Jack Sigler / Chess Team series. The book is now formally titled RAGNAROK (a reference to the Norse mythological story of the end of the world). Unfortunately, Jeremy's originally planned release date of the story has been pushed back until October 2012, but the wait will be worth it. The book will now be released by Seven Realms Publishing, and it will be available in bookstores, and wherever books are sold. It's available for pre-order now at Amazon. This book is Book 4 in the series, coming after PULSE, INSTINCT, and THRESHOLD. The Chesspocalypse novellas all fall between THRESHOLD and RAGNAROK. The cover for RAGNAROK, by Jeremy, is a beautiful thing to behold. I expound upon the way the collaboration works in the interview with Kent, mentioned above. But Robinson fans should rest assured that the book will be full of the same kinds of action, adventure, and antics that the previous three books contained. Whereas Deep Blue was really my story with Jeremy tweaking it in places (to make it more Chess Team appropriate), RAGNAROK is more a case of me constructing the framework and Jeremy will have firm control over how it comes out. We've had a great time plotting the story and now the writing is underway. I'll write up the first draft, and then Jeremy will edit and add description and dialogue as he sees fit. We are both pretty excited to bring you the next chapter in this series.
MONSTER KINGDOM and TROUBLE Update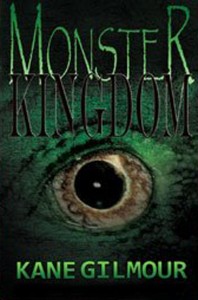 The result of taking the offer to work on RAGNAROK though, is that my writing schedule has had to change. There's an actual deadline for it if we want to have appropriate press and reviews in place before the book goes live in October. So it's coming first. That has meant pushing poor TROUBLE back again (the concept is from 2006!) and also pushing back MONSTER KINGDOM, which I mentioned in the Kent interview as well. Once my part of RAGNAROK is off my plate, I'll be turning my attention to getting MONSTER KINGDOM done, as well as completing the next full length Jason Quinn novel, FROZEN, which I've also already begun. MK dates back to November 2010, when I was going to write it for a NaNoWriMo book. Unfortunately, between freelance work, family stuff, and the push to get RESURRECT out there, MK has been pushed back and back. But this May, it gets finished. TROUBLE will have to wait for later in the year. (That MK art isn't the final cover art yet, but it's getting there.)
.
Appearance in Phoenix (of all places!)
I'll be at the Phoenix Comicon from May 23 to May 27th. Doc and I will have a table to hawk our wares. You'll find print copies of Warbirds of Mars, t-shirts, prints of Doc's artwork, and signed copies of RESURRECT and CALLSIGN: DEEP BLUE for sale. If you're in the Southwest, stop by and say hi.
2012 is going to be a great year, and if the world doesn't end (stupid Mayans!) then it will certainly be on the brink of it in the fiction I'll be bringing to legions of readers. Stick around. Great things are coming.
-Kane