Today I've got the second in my series of micro-interviews with the co-author's for Jeremy Robinson's Chesspocalypse novella series.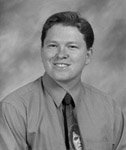 David Wood is author of the Dane Maddock action/adventure series (DOURADO, CIBOLA, and QUEST) as well as the historical novel INTO THE WOODS and the Absent Gods fantasy series under the pseudonym David Debord. In addition to writing, David is also co-host of the influential "ThrillerCast" podcast. He is the co-author with Jeremy Robinson of the second Chesspocalypse novella, CALLSIGN: QUEEN.
__________________________
Kane: Thanks for taking the time to answer some questions for us, David. Let's start with how you got involved with the project. Jeremy told us that you gave him the idea for the novella series. Were you hoping for a shot at one of them?
David Wood: I hadn't really intended to plant a seed in Jeremy's mind. He was a guest on the podcast I co-host, and he was talking about all his many projects and ideas, which brought to my mind another author who was doing co-authored novels in his own "universe." I mentioned it to Jeremy, eliciting a "hmm…" and was pleasantly surprised to hear from him not long afterward.
Kane: CALLSIGN: QUEEN hasn't garnered a lot of reviews yet, but the few I've seen were very positive. Queen is a very important character on the team and has had a lot of time on the page in Jeremy's novels for readers to get to feel like they know her. How hard was it for you to find the right feel for writing the character? Was it more challenging for you to write this character of Jeremy's that is so well loved, than say, writing any other female character?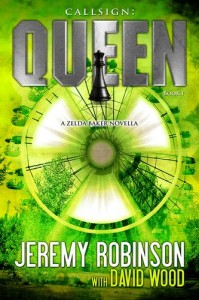 David Wood: Queen is a fantastic character, and I think the fact that I'm married to a badge-carrying, black-belt daughter of an ex-Marine helped. The challenge in writing Queen is that we know a ton about how she acts on a mission and a good bit about how she acts around her teammates, but comparatively little about her back-story and what really makes her tick. Part of my research for CALLSIGN: QUEEN was to re-read all three Jack Sigler / Chess Team novels and take notes on everything we know about her past and any insights into her personality, and I was surprised at how much of that story is yet to be told. I brought in a particular secondary character as a reflection of one of those glimpses into her early life. The action sequences write themselves because Queen is so capable and clever. The big challenge for me was her interaction with Deep Blue, which had to go through a couple of revisions before it fit Jeremy's vision of her character.
Kane: How did you come to the idea of setting the story in Pripyat? Have you been to that part of the world? Or explored any other abandoned sites?
David Wood: The setting of Pripyat was one of the few guidelines Jeremy gave me, along with "Don't maim or kill her." It was a wonderful choice though, because I had been researching Pripyat as a possible setting for a Dane Maddock adventure. It's an amazing place with powerful visuals, and the fact that it literally went from burgeoning modern city to ghost town overnight makes it all the more fascinating. I haven't been to that part of the world but I would love to go. Abandoned sites are cool, but I'm partial to places like caves, cliff dwellings, and ancient ruins—the older the better.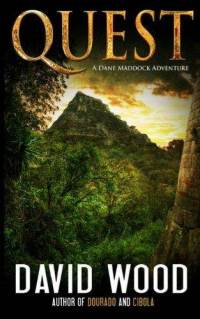 Kane: Without giving us any spoilers, the end of CALLSIGN: QUEEN leads directly into the events of the next full-length Jack Sigler / Chess Team novel, RAGNAROK. How much information did you get about what Jeremy plans for that book to ensure you ended this tale in the right spot? Was it difficult to write a story like this that had definite constraints on both the beginning and the end of the story?
David Wood: The only constraint (other than the no maiming rule) was that, once the story was over, I had to send Queen off in a certain direction with a particular purpose. No spoilers were necessary, so I'll get to be surprised by the events of RAGNAROK along with anyone else, which is how I like it.
Kane: You've just released QUEST back in July and now CALLSIGN: QUEEN is out and doing well. What's next for you? Another Dane Maddock adventure? Are you cooking up any more collaborations?
David Wood: I'm in the research and outlining stage of the next Dane Maddock, and I'm also working on a YA novel. As for collaborations, I'm kicking around ideas for a horror project with Alan Baxter, my podcast co-host who writes dark fiction and urban fantasy. Finally, in the deep recesses of my twisted mind, I'm planning more adventures for Queen in case Jeremy lets me have another go with her.
_____________________
Thanks, David. We'll keep an eye out for the next Maddock book, and here's hoping we see you back in the Chess Team universe!
Next up will be Edward G. Talbot, author of CALLSIGN: ROOK.