Today I've got the first in my series of micro-interviews with the co-authors for Jeremy Robinson's Chesspocalypse novella series.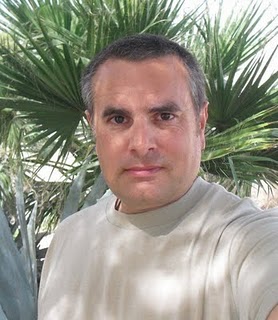 Sean Ellis is author of the Nick Kismet thriller series (THE SHROUD OF HEAVEN, THE DEVIL YOU KNOW, and INTO THE BLACK) as well as the ADVENTURES OF DODGE DALTON pulp style series. He is the co-author with Jeremy Robinson on the first Chesspocalypse novella, CALLSIGN: KING.
Kane: Thanks for taking the time to answer some questions for us, Sean. Let's start with how you got involved with the project. Can you tell us about that?
Sean Ellis: Short answer? Jeremy e-mailed me with the idea, and I couldn't say 'yes' fast enough. The slightly longer version is that Jeremy is someone I've admired professionally for several years. When my novel, THE SHROUD OF HEAVEN was released, I happened to be visiting Jeremy's website and saw where he was giving away several books from his personal collection in a contest, and I asked if he would include a copy of SHROUD in the prize package. I figured it would be a way to make his readers—which are also my target audience—aware of my name. I don't know how well that worked out, but Jeremy gave SHROUD a glowing review, and from that point forward, I guess I've kind of been on his radar—enough so that I made his short list of authors for the Chesspocalypse.
Kane: One of the compliments that I read on reviews for your novella in the Chesspocalypse series, CALLSIGN: KING, was similar to my own assessment when I read the book—it's difficult to tell that there were two authors at work on this one. It reads just like one of Jeremy's full-length Jack Sigler / Chess Team novels. Did you find that your writing style was already very similar to Jeremy's or did you tailor your writing specifically to match his style for this project?
Sean Ellis: I think I'm very susceptible to suggestion as a writer. Whatever I read tends to unconsciously influence my style and my storytelling process, so I have to be very careful what I read when I'm writing. I think it would probably be best for us all if I steer clear of Jane Austen novels.
The first thing I did when Jeremy e-mailed, was dive back into the world of Chess Team. At that point, I had only read PULSE, so I had a lot of catching up to do just to get acquainted with the characters, but I think the reading also helped me find a narrative voice similar to Jeremy's. That probably wasn't much of a leap; Chess Team has always been my kind of story, with a lot of cinematic action and a liberal dollop of sci-fi/paranormal thrown in for seasoning.
Kane: The idea of the Elephant Graveyard was fascinating. I had never heard of one before. Where did this idea come from, and how did you come to the idea to set the story in Ethiopia. Had you been there before, during your time in the military?
Sean Ellis: I came across the idea for the Elephant Graveyard from a text adventure game I played in high school. It was very much in that H. Rider Haggard vein of stories that I had discovered after seeing Raiders of the Lost Ark. I hesitate to call it a 'legend' since it never really achieved that status, but the basic idea was that African natives told ivory traders about a place where all the elephants would go to die, which would make it a vast repository of ivory. I think that indigenous peoples everywhere liked to screw with colonial era explorers; their version of a snipe hunt. The graveyard was one of the bonus quests—along with Dr. Livingston and King Solomon's Mines—in a hexagon board game called Source of the Nile, which wasn't nearly as much fun to play as I thought it would be. In any case, the notion of using it in a story of my own stayed in the back of my head for a long time. I tried to work it into a novella featuring my Nick Kismet character, but that never quite clicked. But when Jeremy proposed a very vague 'Let's write novellas about the Chess Team,' I immediately saw an opportunity to take it out of storage.
I knew, of course, that I would have to tweak it to make it fit the real world a little better, so I decided to tie the graveyard to a pivotal event in human evolution, and there's no better place to tackle that than in Ethiopia's Afar Region, where quite a few early hominid skeletons have been found.
And no, I haven't been to Ethiopia, but thanks to Google Earth, I feel like I took a very low flight over all the locations in the story.
Kane: CALLSIGN: KING introduces a new nemesis for Jack Sigler and possibly for the series as a whole. Without giving too much away for readers who haven't read the novella yet, what can you tell us about Brainstorm, the creation of the concept, and future plans for the character?
Sean Ellis: I love it when a serial character has a nemesis—Sherlock Holmes and Moriarty, Bond and Blofeld—but I also like it when an author changes things up a bit. Chess Team often runs afoul of Manifold Genetics and Richard Ridley, and I wanted to work that conflict into the story, but in such a way that Manifold wouldn't be the primary villain. That would give King a mystery to solve as he runs around getting shot at.
I think because of the chess association that runs throughout the series, and the fact that King is always presented as a highly-analytical strategic thinker, I knew that I wanted the villain to be cut from the same cloth. I came up with the idea of a puppet-master type entity—called Brainstorm—who controls a vast network of assets and operatives, communicating with them almost exclusively through text messages. Brainstorm has been so successful that there's no longer any potential for growth; the economy is more or less at a standstill, and Brainstorm knows there needs to be a shakeup before things can start moving again.
That touches on the topic of the villain's motivation. What do bad guys want? Money? Power? One look at the world around us reveals that diabolical schemes to hold the world for ransom are not nearly as efficient at achieving those goals as starting a hedge fund. Ridley, from PULSE and THRESHOLD, aspires to have immortality and god-like powers. I knew that I'd have to find a different motivation for Brainstorm, and that led me to think about the fundamental nature of his humanity.
Now, that probably won't make any sense to people who haven't read it, but I think that's a spoiler free breakdown.
Jeremy really loved the idea for Brainstorm, and he made it clear that he wants me to explore this in future novellas. So, yes, look for another run in with Brainstorm in the next Jack Sigler novella,  CALLSIGN: KING—UNDERWORLD. Speaking of which…
Kane: Right, you are hard at work on another Sigler novella with Jeremy Robinson called CALLSIGN: KING—UNDERWORLD. What can you tell us about this sequel novella and when we can expect to read it?
Sean Ellis: Even before I was done writing KING 1, the wheels were turning for another novella. I wasn't sure if Jeremy would want the Chesspocalypse co-authors to switch characters, so I focused more on the concept. In this case, I wanted to stay closer to home.
Through no fault of my own, I live in Phoenix, Arizona. Last year, I picked up a book called Weird Arizona, which is chock full of myth, legends, and roadside attractions that make living here a little more tolerable. I've always been fascinated with the treasures that are supposed to be hidden in the area—the Seven Golden Cities of Cibola, the Lost Dutchman Mine—and a lot of those things are tied to the Superstition Wilderness just east of Phoenix. But Weird Arizona revealed a whole bunch of other phenomena associated with the Superstitions—energy vortices, a massive cave network, as well as a slew of mythical monsters—and I knew that I had lots of material for another go at a Chess Team novella.
Whenever possible, I try to follow James Rollins' idea of taking one thing from history and one thing from science, so if the Superstitions were going to be my 'historical' piece of the puzzle, I knew that I needed something more grounded in reality, and I got that when I read a science news article about the discovery of a layer of anti-matter in the Earth's magnetic field. Everything clicked, and I sat down and cranked out the outline.
I really wanted this novella to be more of a creature feature. Cryptids and mythical monsters are a big part of the Chess Team novels, and I kind of felt like I didn't do full justice to that concept with the first book. So this one will make up for it and then some.
I think CALLSIGN: KING—UNDERWORLD will be out sometime in December.
And as I've said before, I hope this isn't the last time I go for a ride with the Chess Team.
_______________________________________________________
Seconded. Thanks for talking with us, Sean. We'll try to have him back here when the next King novella hits the digital shelves.