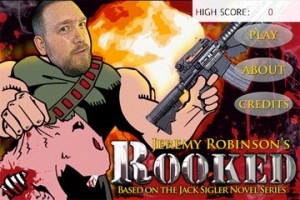 Winding down the series of Chesspocalypse micro-interviews, today I've got Stan Tremblay of Variance Publishing and FindTheAxis.com, the master of formatting on the Chesspocalypse books and other works by Jeremy Robinson (as well as on my own thriller, RESURRECT), and the inspiration for the mighty character of Rook, to talk to us about all the fingers he has in the pie of publishing.
_________________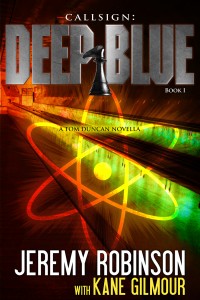 Kane Gilmour: Thanks for interviewing me last time, Stan, and for taking the time to answer some questions for us. Let's start with you and Jeremy Robinson. You are the inspiration for the character of Rook, in Jeremy's Jack Sigler/Chess Team series. Can you tell us about the origins of your association with Jeremy and about what it feels like to be the linguistically colorful soldier in a bestselling thriller series?
Stan Tremblay: Not a problem—it was a blast! I love interviewing people actually; it's interesting to find out where they are from and where they intend to go.
I've known Jeremy for quite some time now, nearly 20 years actually. The brother-in-law and I are three-weeks apart in age, so when Jeremy and his wife got together we just naturally bonded. A lot of it was over computer games like Diablo, or NHL 92-93 for the SEGA, but I also looked up to him because he was such a great artist and I always loved art of all types. We've been close ever since. As to what it feels like, it's very…surreal. I never thought being me was fantastical enough to be a character in a book. Sure, some of what you read is embellished, but for the most part, the speech and mannerisms are me to a 't'. It's actually quite fun to see me from a different perspective.
Kane Gilmour: Lately, you've become the "Go To" guy for formatting in the Chess Team universe, freeing up some of Jeremy's time for more writing. Can you tell us about what goes into the formatting process, and how much feedback you end up supplying Jeremy on the content?
Stan Tremblay: Well, most everything was already set up for me since he did the first few novellas himself, I just followed it like a template. I do have to say though, Jeremy has put a lot of time and effort into branding and setting himself up for the long-term. Beyond the standard links for Table of Contents, he puts in a bunch for his other titles so that they can be bought quite easily through Amazon and Barnes & Noble direct to your device. For other books though, like INSOMNIA and TORMENT, he gave me a general idea of what he was looking for and I did up what I thought his vision was through my design skills. I send it over to him and begin designing the rest when it passed his inspection. We've always worked well together and have a similar vision for what we want to see in an end result: Success.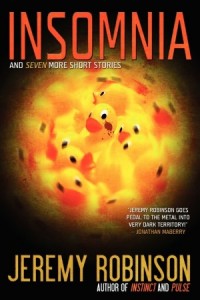 Kane Gilmour: Through FindTheAxis.com, you are available for freelance for cover design, art direction, print and e-book formatting, and even website design. How does one man fit so much awesome on his daily plate? What does your freelance day normally look like, and besides the obvious level of high quality, what features set you apart as a provider from others entering these kind of Indie-publisher support areas?
Stan Tremblay: Ha, good question. I have a big plate! Actually, I learned it from the master himself, Jeremy. He took me under his wing and taught me much of what I know today. I've picked up my own way of doing things and superstitious habits (like goalies rocking back and forth while hitting the uprights from left to right 3 times each) that have made my way 'me', but the building blocks were set in place with his guidance. Just like in anything to do with publishing, you have to be broad in what you know to be able to compete in today's market. Being a one-stop-shop with competitive pricing is a must until you get so busy that you allow yourself to pick and choose your clients. I've been a jack-of-all-trades my whole life—from basic car repair to some plumbing and electrical to computers to quality control and flavor profiling, to now: the many facets of pre-production publishing. A typical day for me usually starts after dinner until I feel as though I've accomplished what I was looking to do that night—anyplace from 10pm to midnight. If I run low on work, I'll either work on honing my skills with some Photoshop fiddling, write up a blog post over at the FindTheAxis Blog, or just be social.
What sets me apart? I would say my drive for customer satisfaction. Sure, while the money helps to pay the bills, I strive to make the customer more than 'happy' with the end result. I like knowing when the customer is ooh-ing and aah-ing and takes pride in something I made that they can show off to the world. If you can't say 'look at my new cover that impresses me every time I see it' then I'm not happy.
Kane Gilmour: You are also an integral part of Variance Publishing, where you serve as Assistant Publisher, Webmaster, and a cover designer. Which of your covers are you most proud of, and can you take us through your design process on it?
Stan Tremblay: I love designing covers. I don't know if a picture is worth a thousand words, but conveying a concise message in that small space is a challenge I embrace with open arms! While it was created to mimic the first book in the series, I love the cover for THE MONGOL OBJECTIVE, by David Sakmyster, along with DARK TRINITY: ASCENDANT, by Sean Ellis. I have to say though, I get many comments on a few of my non-Variance titles—namely Rick Chesler's kiDNApped, Katie McVay's THE CITY OF LOST SECRETS, and GHOSTS OF ARLINGTON by D.G. Gass. (Sorry, my covers are like Lay's potato chips, I can't pick just one.)
My first question before designing any cover is, 'does this belong to a series?' This way if it's a follow-up, I can see what past titles might have looked like to try and mimic them for author-branding purposes, or if it's the first in the series and I'm not the one in the future to do the follow-up books, that it can be created so fans who see the next books will associate right away with that author for an instant sale.
My next question is, 'what ideas would you like to see on the cover (places, buildings, feelings, etc)', along with any cover you would like to mimic (an action book along the lines of James Rollins and his Sigma series, as an example).
From there I start looking for stock photos I can meld together to make an image worthy of a bestseller. Font choices are always running through my head as well, something easy to read, but stylish is important! Don't get caught up in the 'gimmicky' fonts.
Lastly, once I've created a sample, it goes to the author for them to review and suggest changes before they get the final hi-res copy. All-in-all, it can take up to a week to create a cover, but usually only a few days.
Kane Gilmour: I asked you about this when we met in November, but I'll nudge again. If you have no plans to embark on writing your own novel, do you at least have ideas you'd like to see in print that might lead you to a collaboration with Jeremy or another author in the future?
Stan Tremblay: I still have no plans to write anything at this time. And while I have a sick and twisted imagination that could give Clive Barker a run for his money 20 years ago, no one has yet asked me to collaborate on anything. Jeremy has more ideas than you can shake a stick at, so he doesn't need my help, though on occasion, he might run things by me and I'll give my input. If you know of anyone looking for ideas and wants to talk, you know where to find me.