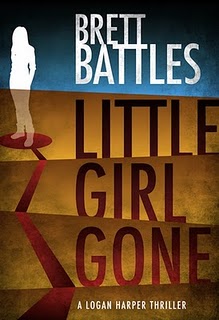 Brett Battles has a new book out called LITTLE GIRL GONE. Directly self-published to e-book format. If you haven't been following his Jonathan Quinn series about a "cleaner" in the espionage business, then you are missing a great thing. With that series, Battles turns a tired genre on its head and gives us an interesting and compelling character with a career that we have little seen in fiction—the guy who comes in after the fact.
Now, Battles has a new series character and is throwing his name into the ring of those who have chosen to embark on self-published e-books as a way of getting more books out in a year (and of making a larger royalty to boot).
Like with the Jonathan Quinn series, Battles turns a few more tropes on their heads with LITTLE GIRL GONE. For about the first half of the book, the action takes place in and around southern California. Makes sense, since that's where the author lives. The thing is, I tend to shy away from books set in LA. Not my favorite city. So in the author's favor? He makes LA an interesting setting for the book. When the book suddenly takes a turn about midway through and the action moves to Asia, I was surprised and delighted. Instead of giving the reader an expected stay-in-LA book or a globetrotting adventure, the author picked his locales carefully and delved into each with just the right amount of texture to bring them to life. Nice. I haven't been to the Asian locales in the story, but I've been to similar ones and the detail of those Asian scenes rings true.
Next, the main character. Who at first seems like the everyman character. Then we have a hint that he might not be the everyman character. Now let me digress here: I generally don't like reading about the everyman character. I'd rather have my hero more heroic. What irks me most however, is when the former Special Forces super-hero character acts like an untrained everyman. (I've seen that in too many books to count.) Coming back to Battles, what he has done here is brilliant—he's designed the character of Logan Harper as a little bit everyman and a little bit heroic badass, and what's more, he gives us a compelling reason for that dichotomy: guilt. Not the typical, yeah-I've-seen-that-before guilt that the stereotypical brooding FBI agent-who-is-one-step-away-from-getting-kicked-out-of-the-agency usually displays in a thriller, but rather in a simple, elegant, and real way with which the reader can identify. The source of Harper's woe is, as it is with Hamlet, his own indecision.
The plot moves along a little slowly at the start, as the reader wonders why Harper is reluctant to be involved, why the supporting cast are withholding crucial information, and where the whole thing might be going. But then people start disappearing and apartments are quickly sanitized. Lead after lead turns up dead, and before you know it, Battles has you in the palm of his hand and he's taking you on a realistic adventure to a few places you weren't expecting.
Looks like the start of a great new series. Keep your eye on Battles. He writes so fast you'd think his chair were on fire. He's got two more novels coming out in the next few months and his latest in the Jonathan Quinn series just came out too!
LITTLE GIRL GONE
Logan Harper's quiet life is upended when he finds himself in Los Angeles, searching for the missing granddaughter of his father's friend, and uncovering a sinister plot connected not only to the friend's Burmese past, but also to the boardrooms of corporate America. Logan must use skills from a life he'd rather forget to try and bring the girl home alive.
Amazon: http://www.amazon.com/Little-Logan-Harper-Thriller-ebook/dp/B004TGUUVA/
B&N: http://search.barnesandnoble.com/Little-Girl-Gone/Brett-Battles/e/2940012368300
Smashwords.com:http://www.smashwords.com/books/view/49059