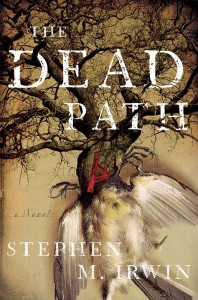 Been a while since I update the site. Figured I'd start off with a review of a spectacular book, THE DEAD PATH, by my Australian friend, Stephen M. Irwin. Read on.
Stephen M. Irwin's supernatural thriller debut, THE DEAD PATH, is without a doubt one of the finest things to come out of Australia in the last twenty years. With a slow, considered burn of a beginning, the story twists a few times before it really gets rolling, and you think you are in for a predictable The Sixth Sense kind of "I See Ghosts" tale. But Irwin has loftier things in store for you. The story moves effortlessly into different territories than where you thought you were heading, and it sucks you in so deeply, that when it returns to issues brought up in the early part of the tale, you had completely forgotten about them, and the resulting impact is just what a terrific spookathon requires. The tale twists and turns, moving in directions you don't see coming until they are upon you. And by that point, the new direction is so wonderfully obvious, you question why you didn't see it coming in the first place. Because you are in the hands of a master, that's why.
This novel was also a surprise for me in another way, unrelated to the excellent tapestry of woven plot. The prose is lush, exotic, and so concise, that Irwin can evoke the heebie jeebies as easily as he evokes your misspent childhood with a simple sentence about the weather. I found, for the first time in 15 years, I was savoring the prose of a novel, dipping into it like a fine single malt whisky, letting each sentence roll over my tongue, and feeling the delicious burn of each chapter. I found myself going back and re-reading a sentence to marvel at its construction—at how perfect it was, and yet how simple. Like any master of a craft, Irwin makes it look easy. I made the first third of the book last weeks, because I refused to barrel through it at the pace the plot demanded. I wanted it to last. I hadn't done that with a book since I read John Banville's lavish espionage drama, THE UNTOUCHABLE, over a decade ago. There's a reason why, like Banville, Irwin is an award-winning author. He's just that good. After my fine sips began to come one after the next, with a delicious warm intensity, I started gulping, until I finished the book in a staggering bender of intoxicated reading.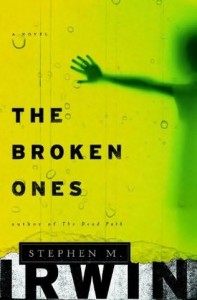 We are living through a new renaissance of supernatural horror thriller fiction at the moment. Stephen M. Irwin is joining the ranks of the other new maestros: Joe Hill, Michael Koryta, and Justin Cronin. As the illustrious Stephen King spends more time tinkering with his magnum opus and knocking baseball novellas out of the park, these four authors are forging ahead with the genre, taking us places we've never been, but where we have been yearning to go. Any one of these authors could carry the legacy of Stephen King, with the fine chilling tales to which we have become accustomed. With Irwin's addition to the new spookmaster's club, readers of the genre are in fine hands.
The book was actually released in the Fall of 2010. I snatched it off the shelf and it took me a while to get around to reading it, but I really loved it. Steve and I have become pals through Facebook since. His new supernatural thriller, THE BROKEN ONES, just came out. You'll want to go grab that one too.