So one of my readers posted a photo I had created, which I posted at the start of the year. It contained 7 book covers and 3 blacked out spots because the cover art was not yet final. It's pictured here.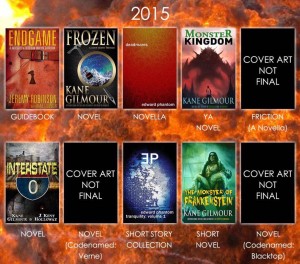 So here's what happened to those plans.
Endgame was released in February.
And…pretty much none of the rest of it will happen in 2015, except for—maybe—Frozen.
I did manage to get three short stories written this year; "Show of Force" co-authored with Jeremy Robinson, appeared in SNAFU: Survival of the Fittest, from Cohesion Press and "Here We Go! Fight!" will appear in the upcoming anthology MECH: Age of Steel from Ragnarok Publications. The third is currently wandering the landscape a little shocked and surprised to have been born, and it's looking for a publisher.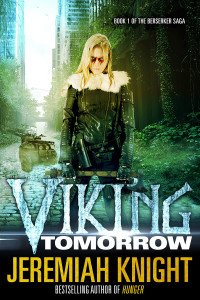 In 2015, I also wrote the last book on that picture—the project that was codenamed 'Blacktop,' which now has a title of Viking Tomorrow. The first draft of that book, co-authored with Jeremy Robinson and to be released under a pseudonym, is done, but I'm in the process of making some major revisions to it. The book should be released in 2016 now. That project took a bit of my time this year. The project I had codenamed Verne is backburner now, too, because it was for a large publisher, who will now be looking at Viking Tomorrow instead.
Kent and I will be working on Interstate 0 in November, but it most definitely won't see publication until 2016 now.
Because I have more demand for Frozen than for the Frankenstein book, and because I've now missed the window entirely for Halloween, Frankie is moving to the back burner, as I try to get the Jason Quinn book finished this winter and released as soon as possible. Friction got demoted from a novella to a short story, and I should get that written in the next month. More about that as it gets closer to completion.
I'm also in the process of adapting Jeremy Robinson's novel Island 731 into a comic book (again, co-authoring with him). More news on that one soon.
That leaves Monster Kingdom, which I'm in the process of workshopping with some trusted authors, and which I need to heavily re-write. The Edward Phantom short stories are even more back-burner than the rest of it.
I spent a good portion of this year with three different colds, and no work got done during those times. So I'm fine-tuning my focus now, getting the comic done, and the edits on the Viking book done. Then full steam on Frozen, followed by the long awaited collaboration with Kent.
It should come as no surprise that I won't be creating a 2016 picture to haunt me in October next year, but all these projects are still coming at some point. So if one or the other has been particularly intriguing you, be patient with me a while longer. It's all on the way.