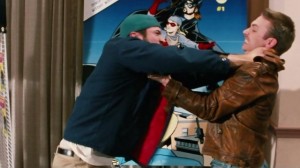 I add depth and shading to give the image more definition. Only then does the drawing truly take shape.
If you're not familiar with the quote in the title, it's from the Kevin Smith film, "Chasing Amy", in which a comic book inker, tired of his fellow comic-book penciller getting all the love, finally snaps when an obnoxious fan tells him he's only "a tracer."
As a co-author with Jeremy Robinson on his excellent Jack Sigler/Chess Team series, I might feel the same way, *except* that the fans have been overwhelmingly fantastic. Out of the very few negative comments and feedback we received for our collaboration on 2012's RAGNAROK, only one person pointed an accusing finger at me. And on the other side of that coin, the book became a bestseller on Amazon. Apparently loads of people loved the book. So ultimately, even though the co-author gets less of the accolades, I certainly don't feel like Banky in "Chasing Amy". I might be a tracer, but I take my work seriously.