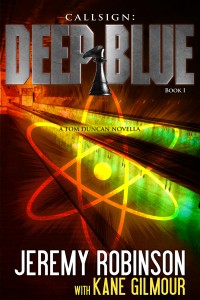 So, I actually had someone ask me about why I hadn't mentioned this on my blog yet. It's not top secret or anything, I just hadn't had the time yet, and wanted to get the first three micro-interviews with the other Chesspocalypse authors up first. That's right—other.
Jeremy Robinson, one of the coolest, hippest, most soft-spoken, and kindest authors out there, did me a supremely cool solid. He offered me the chance to write a novella of my own in the Chesspocalypse series. Well, actually, I suggested to him that he do a Deep Blue novella for the series, and he asked if I'd like to co-author. I was thrilled.
First and foremost, I'm a big fan of all the work Jeremy has done in the past and the great stuff he's putting out now—as himself, as horror author Jeremy Bishop, and even as his humor book pen names of Kutyuso Deep and Ike Onsoomyu. I started e-mailing with him some time ago, and that turned into a beta-reading gig. That led to me doing some freelance editing for Jeremy, almost one year ago, for his works published by his Breakneck Media imprint. I think we're at about 14 projects now, that I've worked with him on. It's an absolute joy. He's funny, witty, and probably the single best person I've ever known for accepting criticism. As an editor, I really couldn't ask for more. I love to see him succeed, and I love to watch him grow and push himself as an author.
At the same time a year ago, I finished up the first draft of my first thriller RERSURRECT (to be released soon), and Jeremy has been a phenomenal mentor in all things publishing and self-publishing. When I asked him if he could turn me on to his beta readers, because I was having trouble finding people, he offered to read the book himself. When he finished it and loved it, he offered me a stellar blurb, which I'll be revealing on this blog shortly. He introduced me to people in the industry, offered critical feedback on the story, and even showed me a barrel full of Photoshop tricks so I could put together the cover for RESURRECT, which again, I'll be revealing on this blog shortly.
So after the man had given me so much (and given me a job!) already, I really wasn't expecting to be given a shot at contributing to his awesome Chess Team universe. It was a double compliment. First, it meant that he thought I knew his stories and his style well enough that I could contribute to the series effectively. He was trusting me with his universe. It also spoke of how much he liked my writing in RESURRECT. In addition to giving me a chance to play with his characters, the offer to do the novella exposes me to all of his fans—right around the time I'm releasing my own work. A new author couldn't hope for much more.
So, I'm having a blast finishing up this story. We'll have a story description up here and on Jeremy's site once the book is done in a few weeks. For now, make with the clicky on that pic, and feast your peepers on that glorious cover artwork (also by Jeremy, if you are curious—he does all of his own covers except for those on his hardcovers from Thomas Dunne). If you are a Chess Team fan and you've wanted to see Tom Duncan, former President of the US and handler for the team, get into some action himself, CALLSIGN: DEEP BLUE is going to be the place!