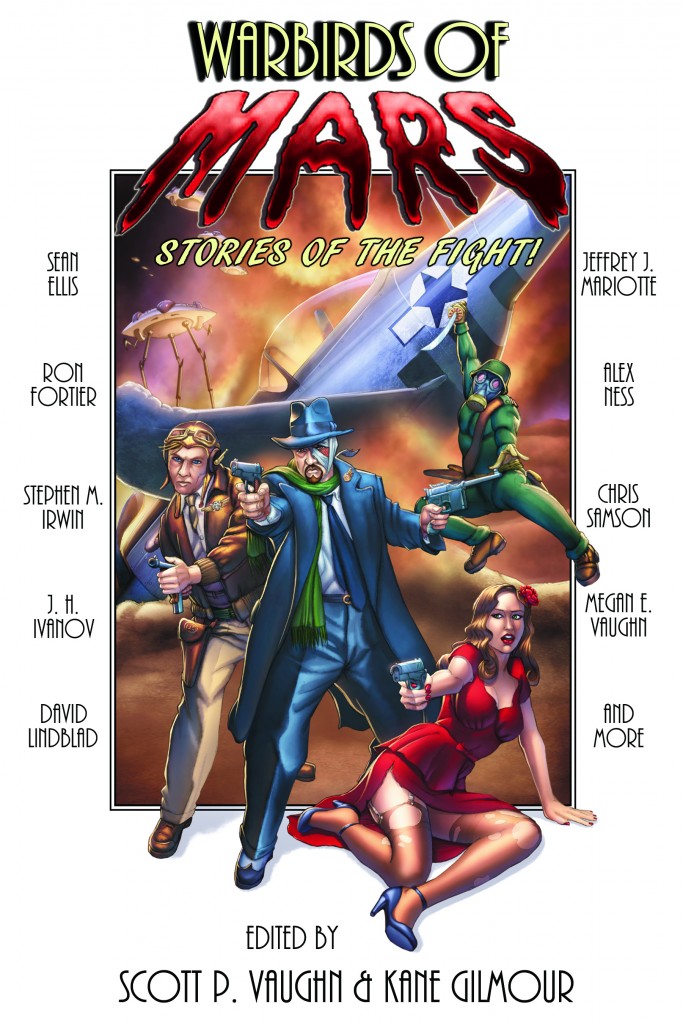 Coming soon from Quickdraw Books, my little imprint.
WARBIRDS OF MARS: STORIES OF THE FIGHT! is an anthology featuring some amazing talents. The book will debut at the Phoenix Comicon on May 23rd. Book is edited by myself and Scott P. Vaughn.
Here's the description:
It's 1948 and WWII never ended!
Instead, Earth was invaded by creatures from the stars! One small group of resistance fighters has banded together to hold the line…at all costs!
WARBIRDS OF MARS: STORIES OF THE FIGHT!
Bomber pilot Jack Paris. Lounge singer Josie Taylor. Bandaged avenger Hunter Noir. Mysterious hybrid Mr. Mask. Together they will stop at nothing to undermine the Martian occupation of Earth. From daring action in the South China Sea to explosive chaos on the frozen glaciers of Greenland. Watch a man transformed into a vigilante hero, as the world he knows crumbles around him. See an alien-human abomination discover self-worth in the death of a man who extends him kindness. What are the resistance plans for combating the Martian threat? Discover an awakening as two young boys journey from distant farms to the big city, to get in on the life of battle. Just what are the creeping monsters threatening the small southwestern town of Adobe Wells?
Scott P. Vaughn's vision of a world ruled by three-eyed invaders from the popular webcomic comes to life in this anthology, with fourteen tales of intrigue, horror, and desperate action. The stories run the gamut from the air war, to the horseback of the wild west and the nocturnal alleys of battle-torn 1940s urban America. Brought to you by some of the best names in the horror, action & adventure, supernatural thriller, and comics genres. Relive the glory of the Pulp era with these stories of the fight.
At a whopping 470 pages, this bad boy will run 18.99, and should be available for your favorite online book dealers, as well as from brick & mortar shops (although they'll probably have to order it for you, but just ask.)
E-book versions will be available in the next two weeks for 5.99.
The book features the writing talents of the following:
Sean Ellis
Ron Fortier
Kane Gilmour
Stephen M. Irwin
J. H. Ivanov
David Lindblad
Jeffrey J. Mariotte
Alex Ness
Chris Samson
Megan E. Vaughn
Scott P. Vaughn
Each story in the anthology is accompanied by a full page illustration from the following:
Jean Arrow
Robert Hack
Nik Poliwko
Christian Guldager
John Lucas
Richard Serrao
Dan Parsons
Jason Worthington
Rob Hicks
Mike DeBalfo
Paul Roman Martinez
Matthew Goodall
Nathan Morris
Bill Farmer
Andy Carreon
Scott P. Vaughn